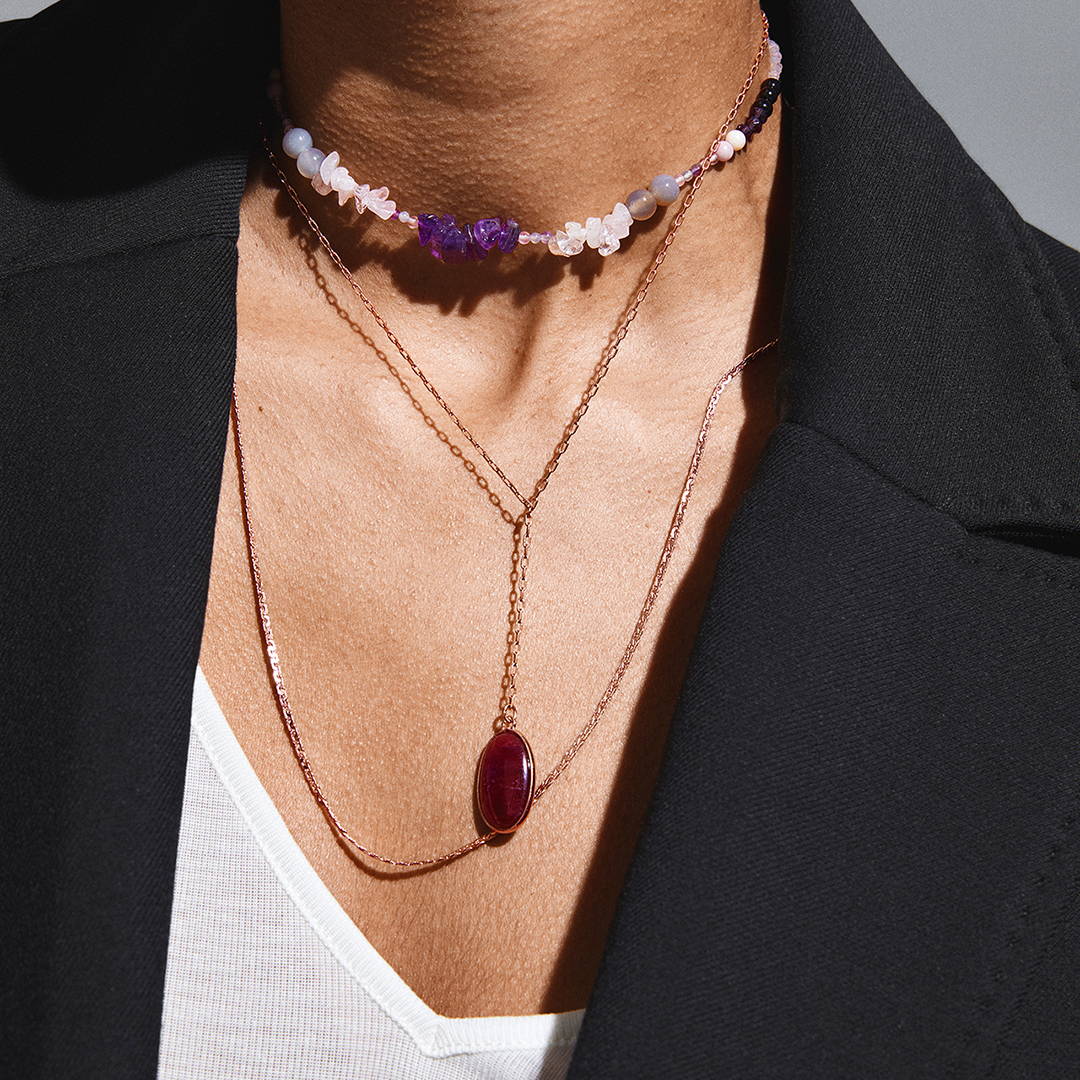 Layering Perfection
Your styling guide to a cool look with layered necklaces.
Forget about the time when one necklace was all it took. The latest trend in the jewellery world dictates multi-layer necklaces — layering is in, and everything is allowed. Mix 'n' match metals, chain lengths, styles and looks and rock your uniqueness. The personal touch is in as well — now more than ever, in terms of jewellery. Bring out those heirlooms and mix them with new items, making sure no one else sports the exact same look as you.
1. Combine different necklace styles
Double-layer necklaces, triple-layer necklaces, multi-layered necklaces: The possibilities of this strong jewellery trend are endless, and it is entirely up to you how you choose to interpret it. Go jewellery hunting in your jewellery box — and in our webshop — to discover how to achieve an entirely new look by combining different necklace styles. Combine your delicate and simple necklaces with chunky statement pieces.
2. Combine different chain lengths
Once upon a time, if you wanted to wear several necklaces at once, they all had to be the same length. Today, the length is entirely up to you. Wear long, short and every length in between, and see how they add to your look. Don't be afraid to mix and match delicate and chunky necklaces, or necklaces with and without flashy pendants. It's the mix that makes your look both interesting and unique.
3. Add a bar necklace into the mix
A pendant is more than a heart, a zodiac sign or a tiny, glittery gemstone. It can also be a stylish bar necklace, either horizontal or vertical. A bar necklace can be silver- or gold-plated, and it's sure to add some edge to your look. Wearing a bar necklace with your layered necklaces makes your look a bit 'rougher'. Choose a slim or chunky bar necklace, long or short, horizontal or vertical. It's undoubtedly one of the easiest way to show of your individuality in a fashionable manner. Also as it's not either to showy or "done" it gives something very graceful and elegant to your outfit without being too ladylike. It's subtle and easy to wear – and works with any outfit you can think of.
Choose from silver or gold-plated — or go for both metals.
4. Mix metals
Only recently has it become common to wear silver and gold jewellery at the same time. Luckily, this is now a welcome trend. Mix your metals as you wish, wearing multi-layered necklaces. Choose your favourite silver layered necklace and your favourite gold necklace, and remember they don't have to be the same length. In fact, it's an advantage if they're different lengths, as they'll add a more reckless and modern touch to your look. At Pilgrim, you'll find silver, gold and rose gold-plated necklaces that are all perfect for layering. You'll also find hematite necklaces and ones that are already a mix of metals.
5. Make it personal
As always, when it comes to fashion, the personal touch is the icing on the cake. The same can be said about the layered necklace trend. Go for the necklaces you like the best and the ones that suit you and your wardrobe. You can't go wrong with that approach. At Pilgrim, you'll find everything you need to get the modern jewellery look just right, whether you go for a double-layered necklace, a triple-layer or a multi-layered look.
---

More style guides? Then sign up for our newsletter now and receive inspiration, news, sales offers and 10% off your next purchase.
---